Bourbon barrel-aged maple turned out to be very popular; making a lot more this year as it sold out before it made it to the website for sale. And it makes a lovely martini!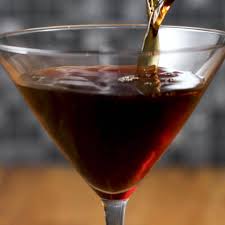 1 cup chilled bourbon
1/4 cup chilled dark beer
1/4 cup chilled pure maple syrup
Ice cubes
1 whole nutmeg
4 small dried red chiles, rinsed and patted dry
Combine the bourbon, beer, and maple syrup in a martini shaker. Fill the shaker with ice cubes. Cover and shake about 8 times. Strain the drink equally into 4 large chilled martini glasses. Using a nutmeg grater, grate about 1/8 teaspoon of nutmeg over each martini. Add chile to each martini and stir to blend. Serve very cold.